Delta Brass Express started in 2010 as a result of a group of friends wanting to play a mix of jazz and classic rock. This Arkansas based band features a trumpet, sax, and trombone horn line, a four piece rhythm section, and lead a vocalist. Delta Brass Express specializes in 60s, 70s and 80s rock and roll as well as smooth jazz standards. Whether you are looking for a full eight piece band or a 4-5 piece combo, we are ready to perform at your next event.
David Laubach first picked up the trumpet at the age of 13 and hasn't stopped playing since. Performing with the Air force Band for 20 years, David has played for three presidents and his versatility helps DBE bring a huge variety of music to the stage.
Jon Vanhouten is a key session player in the central Arkansas area and has been playing the saxophone as long as he can remember. The youngest member of DBE, Jon is a graduate of the nationally recognized U of A Monticello Jazz program. He has talent that exceeds his years.
Mike Bryant is not only our amazing trombone player, but he serves as the leader of DBE. A classically trained trombone player and former music educator, Mike also has the chops to cover Jazz and Rock with ease.
Bill Hickman is not only our bass player, but he has been a mentor to some of Arkansas' finest musicians. Working tirelessly with our drummer, Bill is a crucial part of our rhythm section.
Jerry McCoy was inducted into the Blues Hall of Fame in 2011. Jerry understands the true meaning of Delta music. We are honored to play along side with this incredible man who has played with greats such as Ronnie Milsap and the Allman Brothers.
Leslie Oden hails from the Dallas metroplex where she played with numerous bands such as The Breakfast Club Band, Reloaded, and Modern Vintage Vibe. She adds real style and energy to the DBE sound.
Jack Pritchett's drumming is the driving force behind the band. His diverse experience and rhythmic intuition gives the band a unique and vibrant sound.
Ron Hall is keyboardist and vocalist with the Delta Brass Express. His experience includes national tours with Roy Mack, "The Box Tops" and others. Ron is a regular contributor, performer and member the Hot Springs Jazz Society.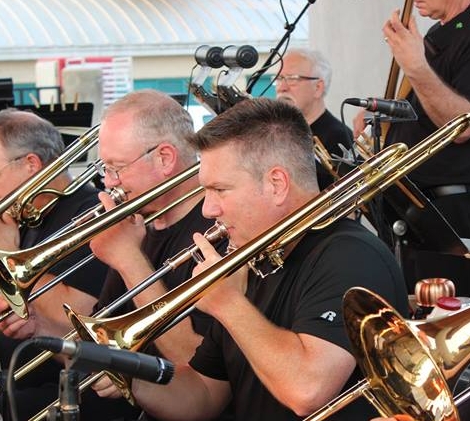 Jeff Bryant is an amazing sound technician and an accomplished trombone player. His fascination with sounds and light teamed with his passion for music ensures the band always looks and sounds great.